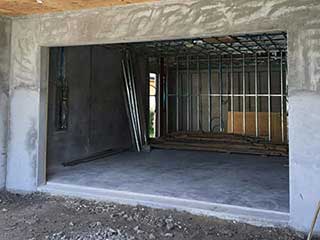 While our team does specialize in performing a wide range of emergency repair and scheduled installation services, a key aspect of how we can help you with your garage door is our regular maintenance appointments. This type of service is designed to preserve the condition of your door so that you'll be able to keep using it for a long time and that a lot of preventable malfunctions will, in fact, be prevented.
Just Say Open Sesame
The opener, which is the motorized unit that powers the automatic operation of your garage door, needs to be cared for in order to stay operational. Since this is both an electronic and a mechanical device, it can experience its fair share of issues, and therefore maintenance is a must. That is, if you'd like your opener to keep functioning for as long as it can. Our team will inspect its circuit board and motor gear to make sure the wires aren't frayed and the gear isn't becoming worn. We'll also check the photoelectric eyes the opener uses to detect an obstacle in the door's path. If sensor realignment is required, we'll perform it right away and make sure that these delicate components are functioning correctly.
Spring Is More Than Just A Season
You may think the opener is the one doing all of the heavy lifting, but in fact, the springs are in charge of that. They're the ones that support and counterbalance the weight of your door by providing it with the tension it requires to open and close effortlessly. After all, when you use your door manually, you're not actually lifting all of its two hundred plus pounds all by yourself. Naturally, because of this, the springs are under a tremendous amount of stress on a daily basis, and therefore they must be properly lubricated and their tension must be adjusted from time to time. We'll take care of both of these tasks, and, if upon inspection we'll find that the condition of these components has degraded past the point of safety, we'll perform the necessary spring replacement right away.
Every Single Hardware Part
Our garage door maintenance service also includes an encompassing examination of the entire system. We'll check everything from the rollers and the tracks to the panels and the cables. Any part that we find to be lacking in some way will be treated immediately. Give our team at Garage Door Repair Casselberry a call and let our experts take care of your system for you.
We also offer the following:
Garage Door Off Track Repair
Garage Door Safety Inspections
Emergency Broken Spring Replacement
LiftMaster Garage Door Opener Repairs