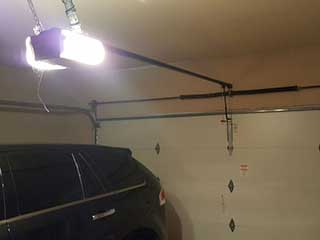 There is nothing more frightening than driving into your garage in the middle of the night and navigating your way in the dark to get to the light switch, hoping against hope, you don't crash into something sharp or hard. Fortunately, many modern garage door openers have one or more lights built into them. When the door is opening or closing that little light turns on instantly. It's not necessarily overtly bright, but it is usually enough to allow us to navigate our way around the many sharp obstacles we often keep in our garages. Of course, just like any bulb, it will eventually need to be replaced, and when that time comes, you need to know what to buy.
LED Vs. Ordinary Bulbs
LED lights have become very popular in recent years. They are a greener alternative to ordinary light bulbs because they are somewhat brighter than ordinary options, but are more energy efficient. The only drawback is that LED light bulbs cost a considerable amount more than ordinary bulbs. Even so, they are probably better for your garage door opener because they ultimately last longer so you will still benefit from saving money in the long run.
Why Choose An LED Light?
If you can overlook the initial higher cost of an LED light bulb compared to a traditional one you will gain far more than a lower energy bill. LED light bulbs produce very little heat, which is more practical considering many garage door openers have plastic casings. They also give off a bright light somewhat faster as they do not contain the filament which does need a bit of time to warm up in order to produce adequate brightness.
Not All Light Bulbs Are Created Equal
You may think you can simply pop in to your local store and buy any light bulb you want when you need to replace the one in your garage door opener. In reality, you can't. Depending on the age of your unit, you may not be able to use ordinary filament light bulbs at all. Some of the newer models specifically require you use LED bulbs, and not just any type, but a specific brand and model too, so it's important to know which ones you can and can't use. If in doubt, should check your opener's user manual. Remember that if you need any type of professional assistance, our team at Garage Door Repair Casselberry is here to help.