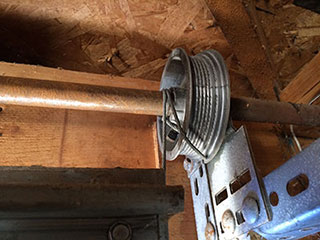 Our team is a leading garage door service provider that specializes in repair and installation of every hardware part, with a particular emphasis placed on the cables and the tracks. Both of these components have important roles to play, and must, therefore, be in a great condition to avoid all sorts of problems.
How Do The Cables Work?
The cable and tracks are essential parts of any garage door system, as they are responsible for keeping the panels aligned correctly and helping them move in a steady and smooth way. Each cable is being held in place within its drum, winding onto a groove while the door moves in order to help pull it up. If the cable ever gets off its drum, the door will become uneven. This can happen when the door is hit while moving or if the door shuts suddenly, as it often does when its spring breaks. In cases like this, our experts suggest that you do not try to operate or manipulate the door, as this may damage your opener and other parts of the system as well, not to mention, you could also get hurt.
How About The Tracks?
The tracks are in charge of guiding the movement of the garage door, and they achieve that goal by keeping the rollers in a steady course. The tracks are made from light metal, which can easily be manipulated, in order to allow technicians to pull the rollers out if some repairs are required. Unfortunately, the tracks can corrode due to exposure to various natural elements. Moreover, they can also dent quite easily if hit with enough force. Another problem they can experience is being clogged with debris, which can interrupt the movement of the rollers, and therefore, the door itself.
Mitigating The Problems And The Risks
It is therefore important to keep your garage door cables and tracks well maintained in order to prevent various misalignment issues and other dangerous problems. Regular inspection of these components can help you catch minor issues early on and prevent them from becoming major problems, provided you get them addressed quickly.
Professional Assistance Is Required
Frayed cables and bent or misaligned tracks aren't something you should try to repair on your own. Not only can you accidentally injure yourself, you can also damage other parts of your system, as careful precision and a lot of experience and skills are required to fix these components effectively. Our team at Garage Door Repair Casselberry can help you with that. If cable or track replacement proves to be required, we'll perform the procedure carefully and make sure your door is capable of opening and closing smoothly and evenly afterward. Call us today and let us handle these components for you.